---
July 16
THE GEOFF HOWARD EXPERIMENT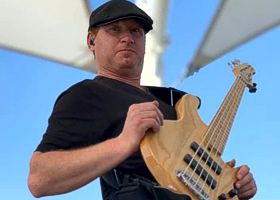 Geoff Howard has been making a living performing music nationally for the past 25 years playing with notable bands/artists such as, The Prince Experience, Off Tha Hook, Eddie Butts Band, Elliot Lurie of the band Looking Glass (Brandy, your a fine girl), Stephen Bishop (It might be you), Peter Beckett of the band Player (Baby Come Back), Joe Puerta of the band Ambrosia and other musicians from around the country. You may have also seen him performing with countless local artists.
After working with such a wide variety of musicians, Geoff decided to start his own "Experiment" which includes musicians from Wisconsin and Illinois:
Kris Crow - Keyboards/ Vocals. Playing Professionally since the age of 15 you can see him perform with 52nd Street, The Milwaukee Tool Shed Band, The Prince Experience, Kris Crow Band and Alter Ego.
Tony Inzeo - Guitar/Vocals. Playing guitar for almost 20 years, Tony has played with The Prince Experience, The Joe Hite Orchestra and Myles Wangnerin.
Matt Ruthenberg - Guitar. Playing guitar for the past 30 years with bands such as Off Tha Hook, John The Conqueroo, Plex and Un'hitchd.
Frank Check - Drums. Frank has literally played with artists from around the world including Shadows of Knight, Panoramic and The Chicago Groove Collective.
This will be a killer show!